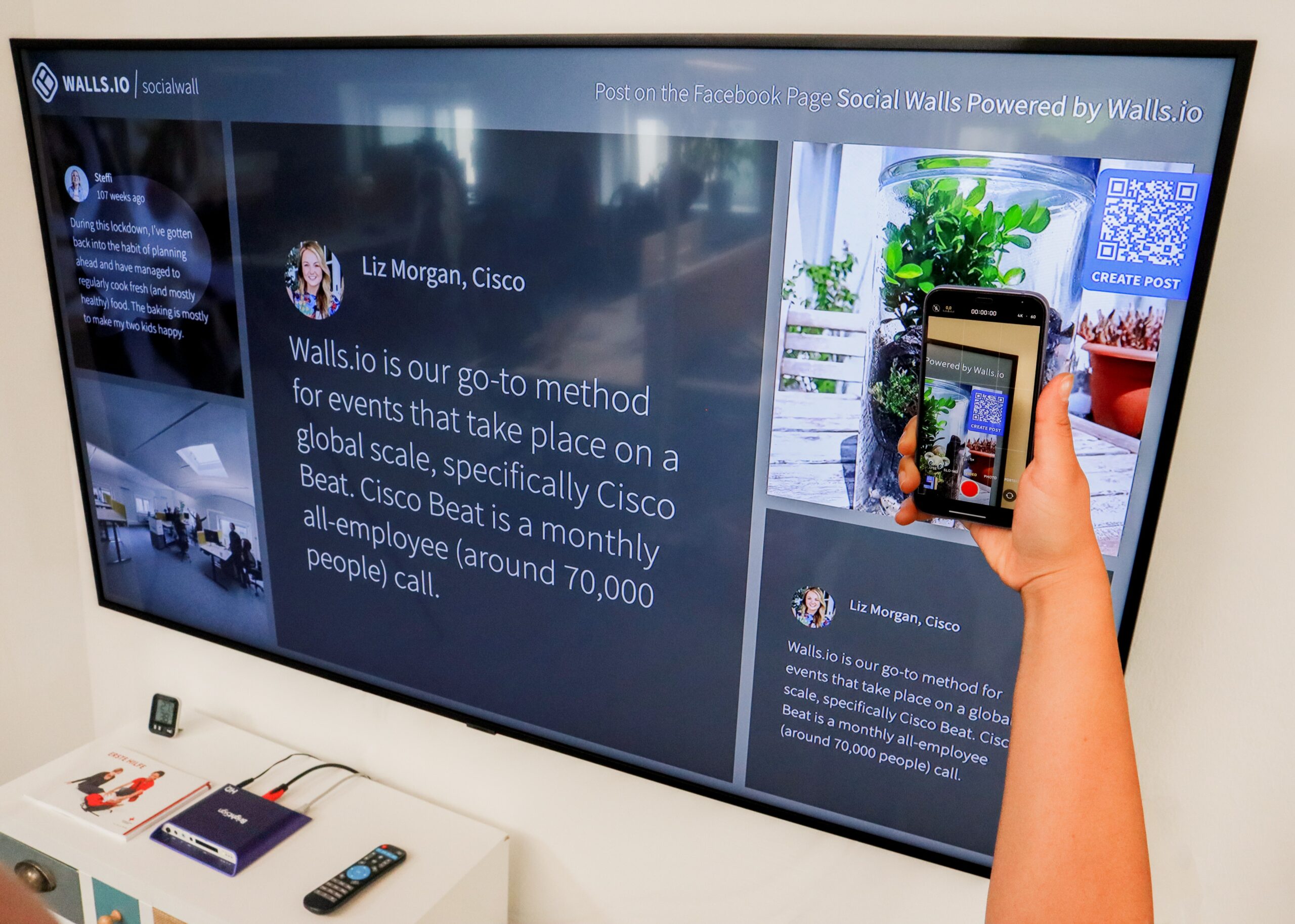 Speaking in conferences is a great opportunity to present the results of your research and share new knowledge. In this article, we are going to walk you through how you can leverage the power of QR Codes for presentations during conferences and seminars. QR Codes can help you engage with your audience, share important information, and network with those in your field.
What are QR Codes?
QR Codes are two-dimensional barcodes that can be scanned using a smartphone camera. They can contain a lot of information in different formats, like alphanumeric characters, URLs, phone numbers, images, PDF, audio, and more.
They were first created in Japan in the mid-1990s, but did not take off in terms of popularity until the onset of the Covid-19 pandemic. Part of the reason for their popularity is their ability to conduct contactless transactions, which is crucial during a health emergency. In addition, modern smartphone models are also now able to scan QR Codes on their built-in camera without a dedicated application.
QR Codes have now become so popular that we can now see them in billboards, digital and print advertisements, restaurants, stores, schools, libraries, museums, train stations, and more. They are easy-to-make without any coding knowledge using any QR Code generator available for free. This makes them an affordable solution to share files and details when you are speaking in conferences. Static QR Codes – permanent QR Codes that cannot be edited – will go a long way in upgrading your presentation by allowing participants to view related videos, download resources, and get your professional contact details.
How to Use QR Codes for Presentations
Whether you are presenting with a PowerPoint or a poster, QR Codes give you the ability to share more resources and engage with your audience during conferences. There are multiple ways to integrate QR Codes into your presentation.
PowerPoint (and Similar)
If you were invited as a presenter onstage, you would have to prepare a PowerPoint or similar presentation. Here's how you can make use of QR Codes when presenting:
Link audience to a survey site.
Allow the audience to download your presentation using a PDF Link.
Encourage additional questions by providing your vCard
Poster
Many conferences also invite poster presenters. If you've been selected as one, here are some of the ways you can integrate QR Codes into your poster.
Invite your audience to watch a time-lapse video of your experiment.
Invite your audience to download your full paper.
Invite your audience to reach out to you with your vCard.
How to Create QR Codes for Presentations
Thankfully, there are many QR Codes generators available nowadays. A simple Google search will give you access to websites and applications that can help you generate QR Codes for free.
But if you want more dynamic options for your QR Codes, you can check out our article on paid QR Code generators here. One excellent option is QR Cloud.
Here's how you can make a QR Code for each use case listed above using your QR Cloud subscription.
Link audience to any website using URL QR Code
Copy the URL of the website you are linking to. This can be a YouTube video or a link to your uploaded paper.
On your account menu, click the QR Code generator. On your dashboard, this is the box that says "QR Codes."
Type in a name for your QR Code.
Select "URL" from the QR Type dropdown menu.
Paste the URL on the subfield.
Customize the appearance of your QR Code as you wish.
Perform a test scan to make sure your code works.
Download and use it in your presentation!
Upload your paper using File Link
On your dashboard, look for the "Create Link" and select "File Link" from the dropdown menu.
Under the File subfield, click "Choose File" and choose the PDF you want to upload from your device.
Encode a custom QR Link URL for your file. You can leave this blank if you wish a system-generated link.
Click "Create File Link."
From here, you can now create your QR Code. If you want to upload an updated file in the future, simply go to the settings for this File Link and upload the new file.
Perform a test scan and download your QR Code.
Create a Vcard QR Code
On the "Create Link" button on your dashboard, choose "Vcard Link" from the dropdown.
Encode a custom URL for your business card or leave it blank for a system-generated one and click "Create Vcard Link."
Type in the details you want to include in your business card.
Customize the appearance of your QR Code, if you prefer.
Perform a test scan to make sure your QR Code works before downloading.
In the future, if there are details that need to be updated, simply click the Vcard link on your dashboard to go to the settings. Aside from the URL of your QR Code, you can edit any detail in your virtual business card.
Conclusion
In this article, we walked you through on how you can create QR Codes that you can use for your conference presentation. This easy-to-make and easy-to-use barcode can expand your ability to engage and immerse yourself with your audience with whom you can share your knowledge and research results. Sign up with QR Cloud to start creating your dynamic QR Codes now!