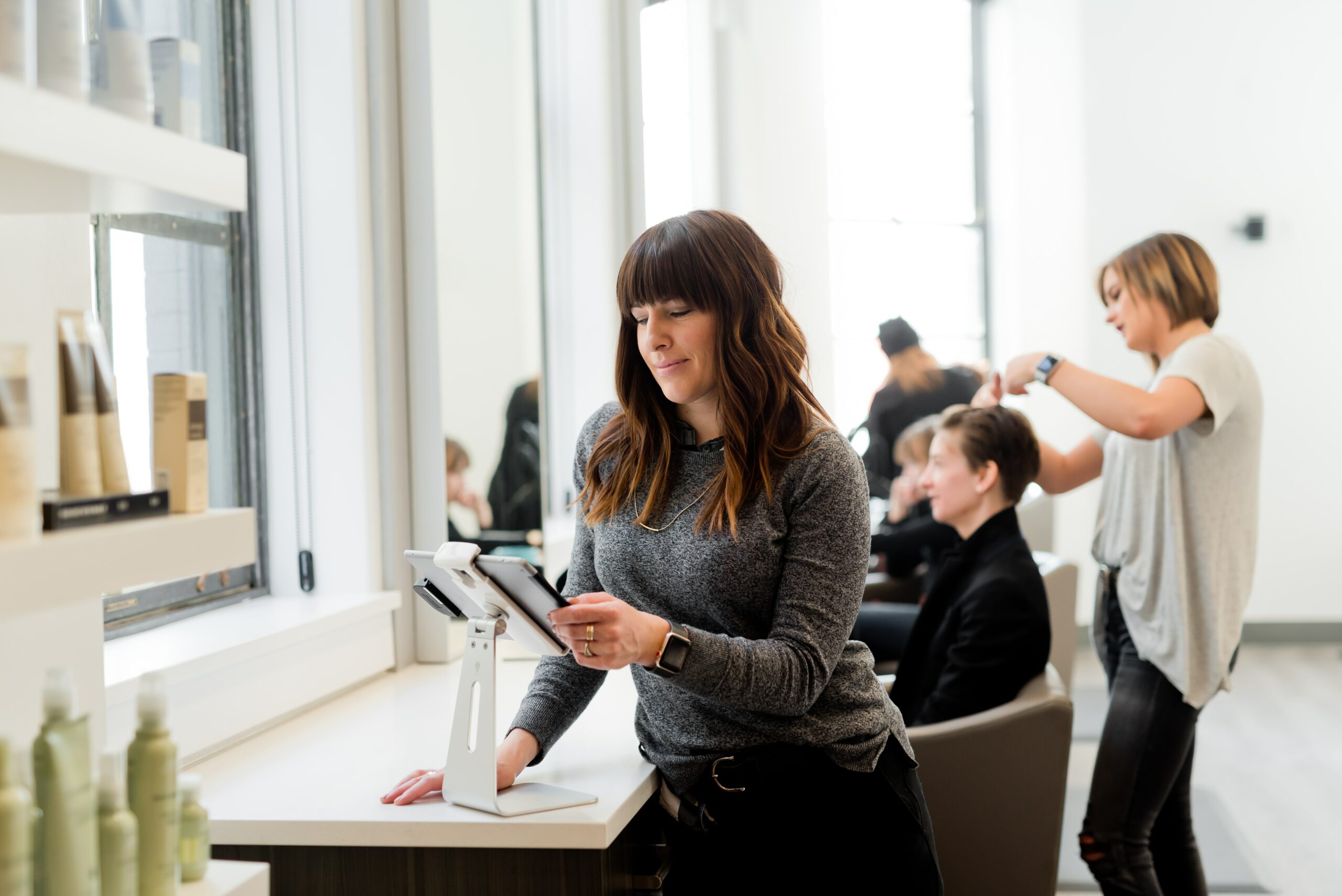 The QR Code's versatility is undeniable. Its functionality in trade fairs, restaurants, subway stations, shopping, and even education helped make transactions easier.
And now, if you work with hair and you want it to become a booming business, what you need to do is to use a QR Code. In a short time, you can record appointment bookings and give your customers the hairstyle they have always wanted.
A Quick Recap on QR Code
Before we go further, let us first understand what a QR Code is. Oxford Languages defines QR Code as machine-readable code consisting of an array of black and white squares, typically used for storing URLs or other information for reading by the camera on a smartphone.
So if you see this kind of code on a book, a table, a bus, a billboard, or anywhere else, give it a scan and see where it takes you.
How to Use QR Code for Hairdressers and Barber Shops
Hair care is one of the ways a person can relax and relieve stress. But if the customer has to wait in a long line just to get a makeover, then imagine the stress! For this reason, you need the help of a QR Code to guarantee that all hair-related transactions are hassle-free.
Here are some of the ways QR Code for hairdressers and barber shops:
Advertisements
The salons can be promoted through signages, publication materials, websites, social media pages, business cards, flyers, uniforms, and even shop doors or walls. Adding a QR Code to these advertising spaces can easily take your customers to your business' about pages, services, hair galleries, promotions, contact details, and other information.
Setting up Appointments
You don't want your customers to be too stressed by having to go and wait in line just to get a makeover. With a QR Code, they can just scan it with their phones to download the contact details of your salon or barber shop. You can also redirect them to your phone numbers or email addresses so that they can directly contact you and book their schedules.
Discover the Latest Hair Trends
You may even use a QR Code to take your customers to an online gallery where they can choose from an array of new hairstyles: from haircuts to hair color.
Shop for Products
Some salons or barber shops have their own goods too, which may range from hair care to other beauty products. With QR Codes, these can easily be promoted on various platforms like websites, social media accounts, or even shopping application accounts.
Send Payment
The good thing about contactless payment is that the customers can send the right amount and not worry about getting extra coins or waiting for a change. A QR Code for hairdressers can definitely help you receive payment for goods or services without hassle.
Give Feedback
Feedback is essential for any business to gain more customers, and your customers' is not an exception. A QR Code will take them to a page where they can fill in a feedback form or rate your salon or barber shop's service.
How to Create a QR Code for Hairdressers and Barber Shops
The website offers a variety of QR Codes that you can use to promote your hairstyling business. Here are the steps in creating your customizer codes:
1. Set up your platforms
Before you can create a QR Code, first decide where to redirect your customers once they give it a scan. Prepare your websites and social media pages, post your information, services, promos, and the like. It can be in the form of pictures, publication materials, or even video promotions. Then, obtain the links and you're good to go.
2. Visit qr-cloud.com
Type qr-cloud.com on the uniform resource locator (URL) bar at the top of your computer screen and press enter. This takes you to the homepage of the website where you can create an account, sign in, read their blogs, or browse their plans.
3. Open your account
You may open your account by signing in or signing up. The buttons can be seen on the top right corner of the webpage. If you choose "sign in," you may either fill in a form or choose among other means such as Meta or Gmail. If you choose "sign up," then you will be required to fill in a form, create your password, choose a plan, and verify your account. For starters, you may choose "free."
4. Dashboard
When you have successfully accessed your account, you will automatically be in the dashboard page. Here, you will first see a box with a QR Code icon. Click it.
5. Create QR
After clicking the box with a QR Code icon, you will see a blue button that writes, "Create QR." When you click it, you will go to a page where you can change the name and type of your QR. Now , get ready to play with its other features.
6. Customize Your QR
QR Cloud gives you the option to change the color and the style of your QR Codes for a look that is uniquely yours. You can change its appearance to lines or dots, change its foreground and background colors, and even add your personalized logo.
Customizing your QR Code helps your customers to remember your business. This will serve as your brand identity.
7. Save, Save, Save!
Before you can use the QR Code, you need to save it first or you'll lose important information. Click "Create" at the bottom left part of the page so secure your newly created code.
8. Give it a Test Scan
To see if the QR Code works, you have to test scan it using your phone. If it does work, you may use it on your platforms. If not, you may contact the site for assistance.
9. Go out and use it!
If your test scan is successful, then you may download your QR Code, print it on a paper, a billboard, a signage, or a t-shirt. You may also include it in your publication materials, promotional videos, and other online postings.
Conclusion
Achieving good looks should not be a chore. It should be effortless. It should make your customers feel relaxed and refreshed from the stress of the daily grind.
By using QR Codes, your customers do not need to walk-in, wait for a long queue, and flip through catalog pages just to get the hairstyle they want. All they have to do is scan, click, and swipe, book an appointment, and have their new and improved hairstyle ready in less time.