Thinking of using QR Code for print ad?
Did you know that customers see print ads as more trustworthy than other marketing methods? Did you also know that people remember printed advertisements 2.6 times better than digital?
This is the lasting power of print advertising.
One of the biggest challenges for any business though is measuring the impact of your print ad. How do you know if your campaign is bringing in customers?
Sure, there are ways you can do it like looking at website traffic immediately after the campaign launched or asking your customers where they found your ad. But these require too much effort, time, and financial resources. There must be another way to check your ROI in a more efficient way?
Here is where you can incorporate QR codes. In this article, we will share with you why adding a QR code benefits your print ad campaign, what kind of QR Code is perfect for your next campaign, and how to create a trackable QR Code for your next print ad and billboard.
Ready? Let's begin!
The Benefits of Using QR Codes for Print Ad and Billboards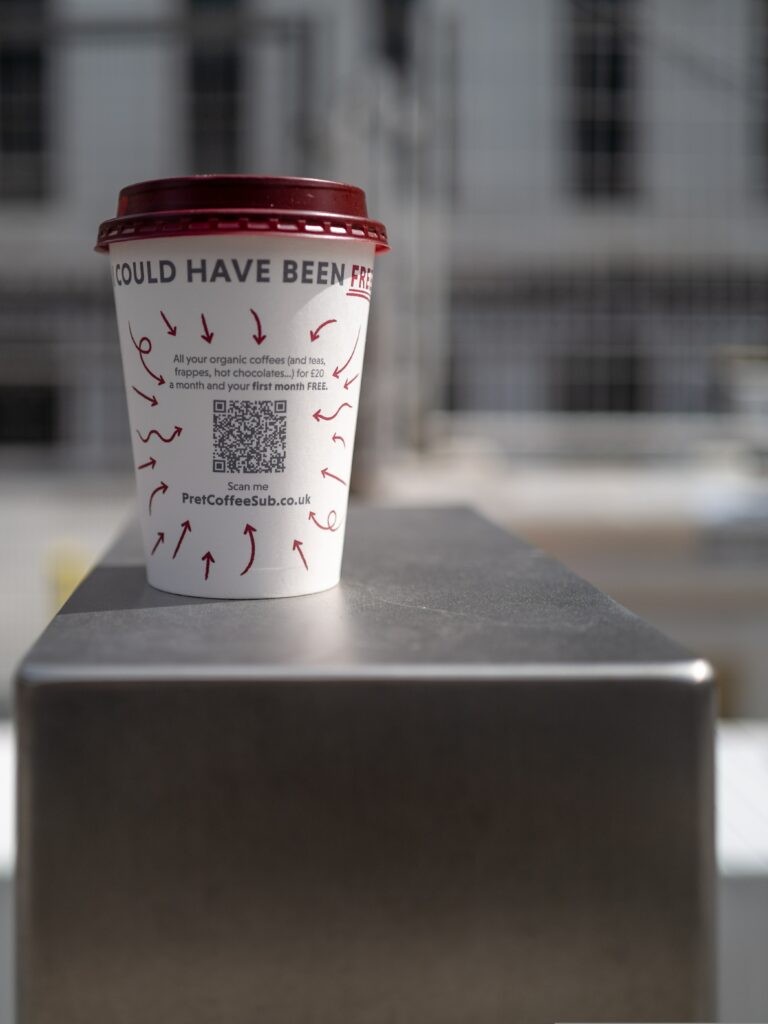 There are countless benefits to integrating these cool 2D barcodes into your business.
They are easy to make and you can put any kind of content in it.
Since print ad space is expensive, you can encode other information inside the QR Code for readers to scan instead of stuffing everything on your paid space. Your graphic design doesn't have to suffer and you will still get the message to your audience.
QR Codes can direct your customers to sign up forms.
You can even add other supplemental content that is not compatible with printing, such as a video or audio.
QR Codes can be easily scanned using an Android or iOS camera.
And who else doesn't have a smartphone these days?
In addition to getting your message across, QR Codes provide numerous solutions to the challenge of measuring print ad and billboard success. They can give you crucial data about your campaign: the number of scans, as well as devices, operating systems and browsers used, locations, languages, and other parameters.
You don't even have to request anything from your QR Code generator. The QR Code will automatically give you this information. Isn't that convenient?
Should I Use static or dynamic QR Code for print ad and billboard?
Having said that, not all QR Codes are capable of doing this. A static QR Code does not have this tracking feature.
The better choice for businesses is to use dynamic QR Codes. These are not only editable but trackable as well. Yes, dynamic QR Codes come at a price and will remain dynamic for as long as your subscription is active. But if the ability to track the success of your campaign is important, this minimal fee is a bargain compared to the benefits your business will reap.
How Do I Create a QR Code for Print Ad and Billboards?
There are many websites and apps that will help you generate a dynamic QR Code. One of them is QR Cloud – your one-stop shop for all your QR Code marketing needs.
Follow these simple steps to create a trackable QR Code with QR Cloud:
Sign in to your QR Cloud account. To unlock dynamic features, you need at least a Pro Plan which has a small monthly subscription. Don't worry because the Free account comes with a 7-day trial.
On your dashboard, click QR Codes.
Click Create QR Code.
Start designing your QR Code.
Test your QR Code by printing it. Scan with your Android or iOS smartphone or tablet to make sure it works as intended.
Once satisfied with your QR Code, click Create.
It's that simple!
You can now send this to your team to incorporate it seamlessly to your graphic design.
Some Reminders Before Using QR Code for Billboards
Before we proceed to the step-by-step guide, here's a quick reminder before you use QR Code for your next billboard.
Compared to more handy newspapers, magazines, brochures, and coffee cup sleeves, however, billboards have the added challenge of being in places where people are not legally allowed to use their phones: the roads.
In this case, how do you maximize your QR Code? Here are some ideas to keep your customers safe:
Use a short URL for your QR Code. A short URL will be easier to read, so your customers will not have to spend a lot of time waiting for their cameras to access your content. You can also make the design minimalistic – meaning no custom colors or styles – to make it easier for your customers to scan.
Make your billboard visible from the parking lot. Putting your billboard in a place where drivers usually stop, like a parking lot or gas station eliminates the risk of your customers getting into an accident while trying to scan your QR Code.
Stay away from the freeway. Need we say more? Keep the hands of our drivers on the wheel and their eyes on the road!
With that out of the way, let's look into how you can track the success of your campaign.
How Can I See the Data Analytics of My QR Code?
So you've created a QR Code and now your campaign has been launched. What's next?
Now, we get down to business. To track the progress of your QR Code, go to the Statistics page.
Go to your QR Cloud Dashboard and go to the Settings of the QR Code you are tracking.
On the right side of the QR Settings Page, you will see three small icons above the live viewer. Hover your mouse over them and click the one named Statistics.
This is the Statistics page. Here you can immediately see a graph that shows the number of times your QR Code was scanned for the period and by how many visitors you have indicated on the calendar found at the top right portion of the figure.
Under the graph are the other parameters by which you can gauge the success of your campaign. These are:
Countries
Cities
Referrers
Devices (Desktop or Mobile)
Operating Systems (Android or iOS)
Browsers
Languages
UTMs
How many scans is your QR Code receiving? Is it being scanned by your target audience in your target regions?
Now, you will have an idea if your print ad is working and bringing customers to your business. You can export these individual reports to CSV and JSON file formats.
Bottom Line
QR Codes are proven to be an incredible tool and value added service for businesses. Aside from the ability to encode practically any kind of information, they are also capable of tracking the reach of your campaign.
Still thinking of how to best measure the success of your print ads and billboards? With the right QR Codes, problem solved!